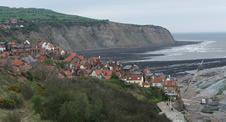 Robin Hoods Bay
Note : Firms exist who will carry your luggage for you dropping it off at your evenings destination for you. Thus enabling you to carry a day sack and relax along the route.


So you have decided to do the walk. One of the best scenic walks in the world, taking in three national parks and some of the best scenery in the British Isles.
The entire walk is on rights of way and access land with scenery of such variety your journey will be one you remember for the rest of your life.
The walk passes through three National Parks. The links to which are found to the right of this text. These are some of the most beautiful areas in the British Isles. The Lake District being the most vertically challenging allows the walker to rearrange the route to avoid the steeper mountainous areas if so desired.
The biggest problem you will have is finding the accommodation to allow you to complete the walk without having to deviate too far from your planned route. This is much easier said than done and we advise you to book accommodation as soon as you decide upon doing the walk.
The Coast to Coast National Parks

CHEAP MAPS!! - Amazon are offering all the maps for this route from £5.29 !! Click here for more information
If you are a beginner to long distance walking I suggest you check out our equipment section where I have explained all the gear we bring with us, how useful it is and how not to overpack!! You will need lightweight waterproofs and definately something to keep you warm. Even on summer days the moors can be very chilly.
My suggestion for maps is to use 1:25,000 scale ordnance survey maps or routecards. Although routecards are slightly restrictive in area covered as long as you stick to the route agreed you should have no problems.
I hope you find this website of some use and my tips helpful to make your journey a memorable one for years to come,
cheers
Paul